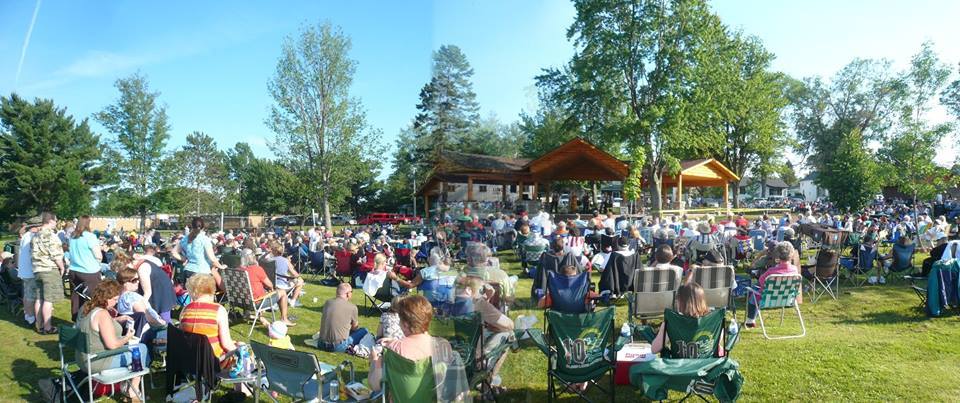 Music on the River - Tomahawk, WI style...in lawn chairs, with coolers and in a relaxing park setting. Come to Veteran's Memorial Park on River St. just South of N 4th Street. You will see the US Army Tank on the corner. Arrive early - there is only on street parking available. Music runs from 6:00pm - 8:00pm. You can also anchor your boat in the Wisconsin River/Lake Mohawksin and enjoy the great event. Across the river offers The Bridge Restaurant. They have dining on the patio and the music carries well over the water if you would like to have a great dinner & drinks while listening to the entertainment. You may want to have a Dairy Queen too! Just talk a walk on our River Walk from the park - the trail goes under N 4th Street and you will come out on the Dairy Queen side of the street for your cool treat.
The kids will enjoy the recreation at the park and the volley ball area if sitting still, listening to music is not their thing. Heck - bring a fishing pole and fish off the public docks. Who says you have to sit still to enjoy listening to the music?!
The first week of music June 22, 2016 is sponsored by our local radio station WJJQ 92.5 FM. There will be free refreshments and a brat fry for all to partake in. Take a look at the other bands throughout the summer listed below:
June 22: FBI & The Untouchable Horns
June 29: Hand-Picked Bluegrass
July 6: Hip Pocket
July 13: The Jimmys
July 20: The Del Rays
July 27: Johnny and the MoTones
We look forward to another great season....and seeing everyone there!