Tribute to Bubba

In honor of my dad, this year's party will be dedicated to him. Please come celebrate with us as we remember "Bubba"

Bubba, Jr. & Family
Tomahawk Fall Ride 2017 - September 13th-17th. 40,000+ motorcycle enthusiasts come to Tomahawk each year in September! This is the 36th year for this event.
Come to Tomahawk and participate in the fantastic annual Harley-Davison owners group yearl
event an fundraiser for MDA!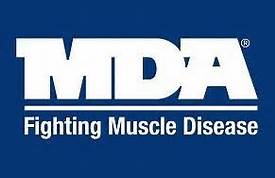 The Fall Ride is the largest local fundraiser for MDA in North Central Wisconsin.
Have you ever attended the Thunder Parade? Bubba's Big Party?
The Poker Run? Helicopter Tours of our city, lakes and woodland? The Lawnmower Tractor & Motorized Bar Stool Races? Tour of Kelly Arms Castle? Been to Sara Park right in Tomahawk? Party on Wisconsin Ave in Downtown Tomahawk?
Make your donation to the MDA at the Official Sponsor of the Fall Ride's Booth - Dairyland Cycle Insurance - located at the Sara Park site or at Bubba's Big Party site. For your donation you will receive the Fall Ride 2016 T-Shirt for FREE! Let's try to meet the goal of raising over $20,000.00 this year from the folks at Dairyland Cycle Insurance. Your donation helps those in Central Wisconsin with Muscular Dystrophy, ALS and other muscle debilitating diseases.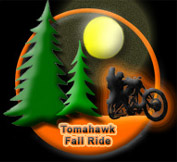 Will you be joining the Thunder Parade this year? If so we will see you at the Tomahawk High School 1048 E Kings Rd at 5pm on Friday September 15th. Blessing of the bikes will be at 5:55pm and on our way by 6pm ending up in Downtown Tomahawk for a great night of food and music. Let's make this parade the best ever!
If you are camping up by Bubba's Big Party - you can ATV right from the camping area to the trail. If you are into water sports the Tomahawk River is nearby and ready for your kayaking adventures.
Bubba's Big Party offers musical entertainment every night too!
Friday, September 15th on stage at 10:30pm is the Madman's Diary
Saturday, September 17th on stage at 10:30pm is Pink Houses (a John "Cougar" Mellencamp Tribute) 11 piece band
Also appearing this year are: Black Knight - Outlaw Legends - Black Frog (A little Willie, Waylan, Johnny & Dac) Selta Ratz, Lukyn Skyward, American Hitem -*A Salute to Veterans* (finalists on America's Got Talent)
New this year at Bubba's Party - Zorb Ball & Human Bowling and race your firends on Hopping Ponies
Come enjoy Bubba's two favorite things...Biker Babes and Hot Rods Saturday - Classic Car & Hot Rod Show with all new Burnout Pit. Saturday Night Best Biker Butt Contest and Bubba's Honda Drop Videos
Don't miss the Volunteer Fire Department Pancake Breakfast
Also...Christian Motorcycle
The Sara Park Entertainment line up is:
Friday, September 16th:
10am-1:30pm Phyl Wickham
1:30pm-5:30pm Donnie Pick and the Road Band
7:30pm-11:30pm Rising Phoenix
Saturday, September 17th:
10:00am-1:30pm Scott Kirby duo
1:30pm-5:30pm Kopper Kreek Band
7:30pm-11:30pm FM Down
Headed Downtown? the Fall Ride Downtown theme is based on the hit series M.A.S.H.
Take part in the VFW "MASH 2687" Look Alike Contest.
Which character is your favorite? Hot Lips Houlihan? Hawkeye? Klinger? Col. Potter? Radar? Father Mulcahy? Judging will take place at the VFW Command Tent downtown at Second Street at approximately 8pm on Friday, September 16th.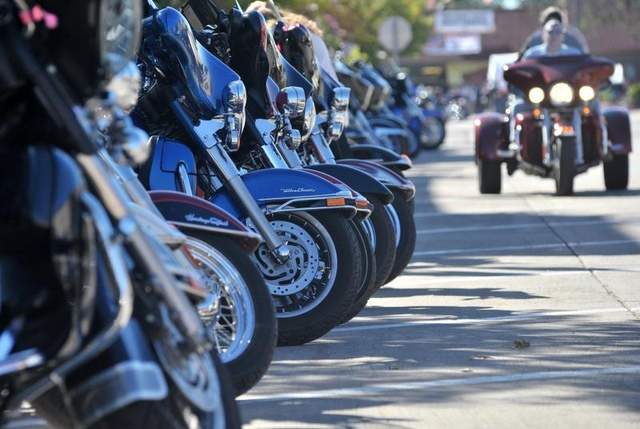 Stop in at our own Harley-Davidson Motors manufacturing facility for an Open House with plant tours at the 426 Somo Ave location. Open House and plant tours are on the 16th & 17th between 10:00am-3:00pm.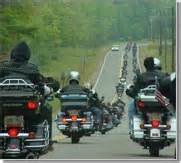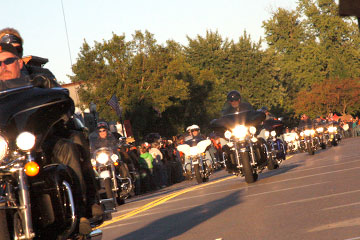 Shop at Lincoln County Cycles 1735 Comfort Dr, Tomahawk, WI 715-453-2300 - Comfort Dr is the road right by the Crossroads BP gas station off the Hwy 86/D/Somo Ave exit. They have all your H-D and motorcycle enthusiast's needs.
Lodging - now that can be challenge. Make your travel plans early. Find a hotel or motel, space at a campground, rent a whole house - a basement - a room, a cottage/cabin or even a camper in the yard. The city and our friendly folks that live here full time, really do try to be creative and make space for everyone attending this event.
When you are ready to buy a property in the Tomahawk area – call us at Woodland Lakes Realty 715-612-7926 cell# or 715-224-3800 office# and we would be delighted to show you what our area has to offer. http://www.WoodlandLakesRealty.com
Check out these websites to help plan your 2016 Fall Ride:
http://www.travelwisconsin.com/events/adventure-sports/Tomahawk-fall-ride-for-mda-38986
http://www.tomahawkfallride.com
http://www.gototomahawk.com
Face Book @ Tomahawk Fall Ride at Sara Park
Each site will share maps and daily events with entertainment schedules.
The three main areas for Fall Ride Events are:
Town of Nokomis Park for Bubba's Big Party 2681 County Hwy L, Tomahawk, WI 54487
Sara Park is at the end of Somo Ave - as West as the road will take you
Downtown Tomahawk on Wisconsin Avenue
Have a great time in Tomahawk.
Ride responsibly.
Enjoy all that the woodland lakes area has to offer.
See for yourself where all the "thunder" is coming from.